SQUILT - Musical Listening Activity for SMART Board
This is a MUST have. Just saying!
The author says:
In this activity, SQUILT stands for
Super
Qurazzy
UnInterrupted
Listening
Time
I can't really say that this activity will be Quiet… I like to have fun and this activity is really a musical listening adventure. It is serious fun!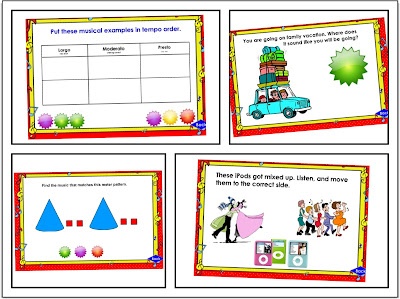 Linked:

Each star-burst is linked to a different listening activity. There are enough linked pages for a class of 20 and several pages
have multiple choices, so it is possible to accommodate even more children that way.
Here are a few of the listening activities in this file:
Listen for location music – Mexico

Listen for meter of 3

Listen for meter of 4

Arrange examples in tempo order: Largo- Moderato – Presto

Listen for music that matches food items

Listen for music written during grandparent's time vs popular tunes

Listen and tell the story of the music - scary dream

Listen and identify music for "date night" – orchestra

Listen for music identifying commercials and TV shows

Listen and move to musical styles
Lesson flow:

There are links to each page and back to the home page for seamless lesson flow. On most pages, there is a funny comment hidden in the choices. The kids love this and can't wait to hit the jackpot! This would be a great lesson for a music sub… if you dare miss the fun!!
Read more at
http://elementarymusicresources.blogspot.ca/p/favourite-finds.html#h3iIJho8t7gWrRdv.99