Rhythm Kush Ball for the SMART Board
Students throw a koosh ball at the board. If it hits a circle, it will take them to a rhythm that they have to clap or play. My kids LOVE this game! You can also edit the pages to be something other than rhythm patterns (ie. notes on the staff, questions, etc.).
Soda Rhythms for the SMART Board
Studens listen to a rhythmic pattern and pull down a "Soda rhythm" to fill each beat box. Students may touch the "hand" to check their work. A correct pattern is rewarded with a funny comment. A PDF file of Soda Can Cards is attached for the teacher to reproduce/laminate for whole class participation. Optional game ideas are included.
Pumpkin Patch Solfege
This SMARTBoard Activity is a simple Halloween – themed solfege activity. Students touch a pumpkin and the link opens a pumpkin on the fence musical notation example. The pumpkin notes are movable and optional "sol – mi – la" syllables are ready for labeling.
It really is very simple and adaptable for all ages for an interesting little ditty during the music classes during October.
SQUILT - Musical Listening Activity for SMART Board
The author says:
In this activity, SQUILT stands for
Super
Qurazzy
UnInterrupted
Listening
Time
I can't really say that this activity will be Quiet… I like to have fun and this activity is really a musical listening adventure. It is serious fun!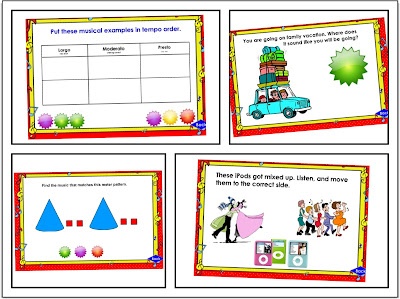 Linked:

Each star-burst is linked to a different listening activity. There are enough linked pages for a class of 20 and several pages
have multiple choices, so it is possible to accommodate even more children that way.
Here are a few of the listening activities in this file:
Listen for location music – Mexico

Listen for meter of 3

Listen for meter of 4

Arrange examples in tempo order: Largo- Moderato – Presto

Listen for music that matches food items

Listen for music written during grandparent's time vs popular tunes

Listen and tell the story of the music - scary dream

Listen and identify music for "date night" – orchestra

Listen for music identifying commercials and TV shows

Listen and move to musical styles
Lesson flow:

There are links to each page and back to the home page for seamless lesson flow. On most pages, there is a funny comment hidden in the choices. The kids love this and can't wait to hit the jackpot! This would be a great lesson for a music sub… if you dare miss the fun!!
Sounds Go Up/ Sounds Go Down
This is a wonderful SMARTboard lesson by Cherie Herring. Students listen to the music when they touch the "package". If the music is ascending they put it in the airplane, and if it is descending, they put it in the train. Later they draw the contour of music they hear!
SQUILT Notebooking Page
I really like this SQUILT page - it contains some nice guidelines to help kids with what to listen for!
Click on a picture for the free download from Homegrown Learners!
Sol - La - Mi Listening Activity
Cherie Herring (author) says:
"This is a great listening and reading activity to play with grades 2 – 4. Before listening, have students draw and "connect the note dots" on each written pattern so they can see the shape of the melody. Students touch the large ear or character on each page to hear a child sing a solfege pattern then try to identify the written pattern heard. If they are correct, they can touch the second character for a funny comment reward. Some pages have students listen to three choices before identifying the pattern seen. Notice that each pattern is linked to it's sound for additional game possibilities.
For additional reinforcement, have the students look at the patterns briefly and then write them on staff paper, or use chips or bottle tops on staff paper."